Ebenezer Hall
Ebenezer Hall was born in the Derbyshire village of Middleton by Wirksworth in 1820. He was one of 12 children of Gilbert Hall, a smallholder, and his wife Elizabeth. At the age of 16, Ebenezer was apprenticed to a Sheffield Silversmith, John Roberts, and went to live in the Park district of Sheffield with his employer. During the next eleven years Ebenezer worked well and at the age of 27 he was taken into partnership, the firm being renamed Roberts and Hall.
Hall first went into land purchase in 1849, when he bought a plot near Mickley Lane. In 1851, John Roberts bought a house on Abbeydale Road called Abbeydale Villa - later to be known as Abbeydale Hall; he also bough a large amount of land on both sides of Baslow Road. Ebenezer moved into Abbeydale Hall with John Roberts and his wife. In 1867 Hall made a large purchase of land in Totley including Greenoak House for £10,000. The following year he took up his first public appointment as a Trustee for Cherrytree Orphanage.
Both Roberts and Hall were regular church attenders and felt the need for a religious outlet in their area. The cornerstone of St John's Church was laid in 1873, Roberts giving the land and £5000 for the building. The endowment fund for the church of £2000 was made up of contributions of £1150, £550 and £300 from Roberts, Hall and the Duke of Devonshire respectively. Ebenezer Hall also made a substantial contribution towards the erection of the Vicarage.
At the age of 55, Ebenezer married the housekeeper of Abbeydale Hall in 1876. He continued to expand his business interests by taking directorships of several other companies. In 1880 he bought the Abbeydale Park Estate from the aged John Roberts. The following year he bought the Totley Rolling Mill and land and buildings along Baslow Road at Totley Rise. In 1883 his longstanding arguments with the Midland Railway Company began, over the passage of the new line through his estate. Although the legal wrangle carried on for five years, Ebenezer was on a committee to provide mission work among the labourers employed on the Dore Chinley Railway and to assist the local schools, whose finances were being drained by the increased numbers of children from the huts of the navvies.
Ebenezer's other charitable works included membership of the Management Committee of the Charity School for Poor Girls in Sheffield, for which both he and his wife gave £2..2s..2d annually. In 1893 he gave £3000 for Church rooms for St John's and further money for the improvement of the Church. When the foundation stone of the new chancel of Dore Church was laid he gave an inscribed silver trowel. Later he donated £50 towards a new organ for Dore Church and further money to augment the stipend of the Vicar of Dore.
When Hall died in June 1911, he left an estate valued at £194,632..18s..3d. After provision for his wife's relatives and friends, from his Residuary Fund he left money for the Sheffield Royal Infirmary, Sheffield Royal Hospital, the Children's Hospital, Jessop Hospital, Sheffield Nurses Home and Training Institution, Sheffield Boy's Charity School, Sheffield Girl's Charity School, Totley Cherrytree Orphanage and Wirksworth Hospital. He left money to the Vicar and Churchwardens of Middleton-by-Wirksworth, Totley, Dore and Holmsfield to buy governmental stock to produce a yearly sum for the benefit of the poor. St John's, Abbeydale benefited by £3000 to be spent on the church as did to a lesser extent the Churches of Middleton in Wirksworth and St John's, Park.
So from very humble origins Ebenezer Hall had the fortune and the ability to become a very rich man. Due to his charitable disposition the local people and the inhabitants of Sheffield benefited from his generosity.
Ebenezer Hall and his Portrait by Joseph Bentley R.B.A.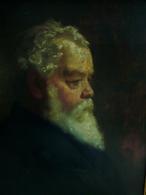 Dore Village Society's Heritage Collection has recently had a most unexpected donation. Mrs Jackie Hall of Goathland near Whitby has donated to the Collection a three-quarter size portrait of Ebenezer Hall which used to hang in the hall of Abbeydale Hall – the home of Ebenezer Hall until his death in 1911. Mrs Hall's husband was the great-nephew of Ebenezer and Jackie wished that the portrait returned to Dore.
On the reverse the label reads:
As a token of their Appreciation the village of Dore and Totley and surrounding districts decided to make a suitable recognition of their Benefactor's Kindness. A Committee was formed and in a short time funds were provided by the inhabitants sufficient to commission
Joseph Bentley R.B.A.
Change Alley, Sheffield
and Resident of Dore
to paint a three-quarter life size portrait of Ebenezer Hall – 11 November 1896. (Cost 100 guineas )
Born 18th November 1820 at Middleton by Wirksworth.
Taken from the Thesis 'Studies in Local History' by Joan Lacey- Hatton. 1974.
No less fascinating is the story of Joseph Herbert Bentley. As a member of the Royal Society of British Artists which has included many eminent artists, Joseph Bentley was a skilled artist, yet just after he painted Ebenezer's portrait he is described in the 1898-9 White's Sheffield Directory as a Photographer of Prideaux Chambers, Change Alley.
In the 1901 Census Joseph is described as a boarder living at Swing Farm with the Frith Family. Swing Farm is now demolished but was on the first bend on Savage Lane, next to Nab Farm. Born in Lincoln he was aged 34 and single. Joseph was described as an Artist, Portrait Painter and Sculptor, working on his own account and occupying two rooms on the farm.
Unless a Dore resident can say differently, that Joseph was lodging with William Frith may well have been because William Frith was not only a Farmer but was described as a Quarry Owner and Stone Dresser – a useful landlord for a Sculptor.
By 1909, according to White's Directory, Joseph Bentley's fortunes seem to have improved still further and he is described as an Artist with a shop at 37-39 Foster's Buildings, High Street, Sheffield, and living at 360 Sharrow Lane.